Praise From Some of my previous Clients who very profitably closed their store Business with Me
John had 3 big retail stores and two enormous warehouses full of merchandise and fixtures, and after being in business successfully for 20 years he decided it was time to retire.
So he began looking for the best solution for his planned exit and found Retail Sales PRO online…
Click on play icon to see what John had to say
He requested a free private consultation, and when we first spoke he was skeptical to say the least.
After looking at his situation and providing him with a custom game plan for closing store sale and projections of what to expect he said, "I think you're crazy!".
But he had attempted a liquidation sale on his own at his 4th store a couple years before and it failed miserably, so he knew he needed the right help.
He followed my system to the letter, and when the sale was over not only was his entire inventory liquidated to the bare walls, but his returns were almost 3 times what he normally did in sales.
Terry had a large furniture store with a corner of it serving as a Radio Shack. He had been in business for 66 years at the time he decided it was time to close. (see Terry's video)
It was one my most successful store closing sales ever, and after I completed the liquidation of Terry's inventory he volunteered that he would absolutely hire Retail Sales PRO again.
Q:  Why did you decide to hire Travis and Retail Sales PRO?
Terry:  As I started the mammoth job of trying to decide who to go with I found Travis's webpage on the internet.
And from the minute that I opened his webpage, I knew that I had found somebody that was very interested in helping people to be successful in going out of business.  And from the first moment I spoke to him, I'll tell you, I knew he was the person and he's very knowledgeable.
From the moment I hired him, I'll tell you he has done everything and even more than what he told me that he would be able to do.    
The first day of the sale arrived and it was unbelievably successful! We did more in one day than I think his goal was to do during the first four days of the sale, which just is another marker that Travis knows what he's doing.    
Q:  What advice would you give to another retailer thinking of closing or looking for someone to help them with a Going Out Of Business Sale?
Terry:  If you're looking for a good recommendation, I'm giving you an excellent recommendation on Travis.
Travis has been very helpful through the whole process. He stayed in close contact with me,  he's watched our daily sales, he knew which areas needed to be discounted more than the others, and he knew which areas we had that we could still make money on.
We are just so thankful and blessed that Travis Walker with Retail Sales PRO has been here walking through us each step of the way during this process.
Mary Ann had a large Farm Supply & Western Wear store that decided to close because the bigger box stores were starting to have a huge impact on her sales. (See Mary's video)
Opening day crowd (and sales volume) was so big that long lines of people (roughly 50 feet PLUS x 4 checkout counters) were waiting for over an hour to complete their purchases.
Q:  You had considered running a store closing sale on your own…why did you ultimately decide to hire Travis and Retail Sales PRO?
Mary: I cannot imagine running my closing store sale without Retail Sales Pro. After speaking with Travis, the initial time, it just gave me peace of mind.
Travis just has a calming presence about him, and he's done this before and he just puts you at ease.
And you know that he's going to take care of you. True professional. Anytime we had a question, he was on it. He was right there with us until the very end we were able to walk away with our heads held very high.
The first day, the sale was incredible! The amount of people coming through here, phenomenal!
Travis told us it would be crazy. I already think he knew it was going to be as crazy as it was.
The parking lot was full. People were lined up down the road, parked in the lot next door, church parking lot.
Unbelievable, unbelievable. In five days we brought in more than we normally bring in during a four-month period with minimal discounts!
I was stressed out about the entire process, but Travis gave me peace of mind.
He took proper care of everything from start to finish. I couldn't be more satisfied.
He knows what he's doing. He's done this before.
I was able to focus on my business while he focused on running the entire sale.
Q:  What advice would you give to another retailer thinking of closing or looking for someone to help them with a Going Out Of Business Sale?
Mary: The advice I would give someone else going through this process would be to take a deep breath, do your research, and definitely give Travis and Retail Sales PRO a chance.
Call them, look at their videos, see what they can do for you. And I believe that it will be a good fit for you.
Chris Blakeman owned 4 very successful sewing stores with, collectively, almost $2,000,000 of inventory between them. (see Chris's video)
Essentially, he scaled his businesses too quickly and they became a burden to him, so he decided to get out, close all four stores, and pursue different business ventures.

Q:  Why did you decide to hire Travis and Retail Sales PRO?
Chris: The one thing that stands out about Travis and Retail Sales PRO is marketing expertise.
He has technical ability and focused detail on marketing that's effective and creates results.
I went to YouTube and I looked up "how to close a retail store".
It was just in my mind and I was like, well, "If I closed down one of my stores, there's so many moving parts to that, so what would that look like"?
And I found a video pretty much at the top of the queue. That gentleman was Travis.
And so I watched this video and he was talking about the process [of how to close a retail store]. So I looked into it more and I went to the Retail Sales PRO website.
I could just tell it was legit right away.
But really when I actually got to talk to Travis and he told me that he had worked with somebody in my industry before, that was really important to me because of his experience of basically doing the same thing before.
He was able to tell me very specific things about that sale.
I chose Travis and Retail Sales PRO to help me with my going out of business sales because I could tell Travis had the experience and training of a professional marketer that was effective.
I could tell that there was already a track record in place of success.
I also enjoyed the level of communication from beginning to end.
Q:  What advice would you give to another retailer thinking of closing or looking for someone to help them with a Going Out Of Business Sale?
Chris: If you're going through this process and thinking of running a going out of business sale as a retailer, or even if you're just considering it, I would definitely recommend Travis because you need somebody with experience or else you're going to lose probably hundreds of thousands of dollars [depending on the size of your inventory and situation].
I would absolutely hire Retail Sales PRO again!
Click on play icon to see what Stacy had to say
Stacy and her family owned 6 custom furniture and fabric stores along the East Coast of Florida. The stores had been in business since 1948 and she was the third generation owner.
She decided to close because of the drastic impact that ecommerce was having on sales and they hadn't evolved along with technology.
They tried to close one of the locations on their own and quickly realized that running a store closing sale on your own is a fool's errand so they sought out help, and we met.
Q:  Why did you decide to hire Travis and Retail Sales PRO?
Stacy: We are a third generation business and we've been in our communities for many, many years, so being able to maintain our reputation and go through a store closing sale with dignity was very important to us.
We have very strong relationships with our customers and with our communities, and it was very important that our stores were not going to be turned into a circus.
We wanted the entire process to be graceful and profitable.
So when we decided to close our other five stores, we thought that we needed to bring a specialist in from the outside to help us with it in order to make it more successful and go a lot smoother than it did for the one store we had where we attempted to run the store closing sale on our own.
And that's when we reached out to Travis.
And when we talked to him we felt like that he was going to be a good fit for us, that we could have a successful store closing sale and do it right this time.
We did not make a lot of money when we liquidated our own store, but with Travis's help we had very good margins at the end of the respective sales at the other locations…way better than we anticipated and all along the way.
The traffic at the beginning of the sale was like something we have not seen.
Travis sent out press releases to all the local newspapers and TV stations [in addition to all the social media and print campaigns] and I can't remember when we had a lot of really good TV coverage which helped a lot!
We had people lined up at least an hour before we opened, and there was nowhere for people to park. They were wrapped all the way out to the street, and that line lasted the entire day.
It was amazing! And we did more in that first week, way more than we anticipated. And our margins were way higher than we ever expected them to be.
We realized quickly that we never could have done that on our own.
Q:  What advice would you give to another retailer thinking of closing or looking for someone to help them with a Going Out Of Business Sale?
Stacy: The one thing that stands out about Travis and Retail Sales PRO is his professionalism and his empathy to the process.
If you're going through this process as a retailer, I would recommend Travis and Retail Sales PRO because he will put you in a position to have a successful sale.
He'll get you high profit margins, and he will handle everything pertaining to the sale for you beginning to end. And so you you'll take a lot of stress off.
Travis was there for us every step of the way from beginning to end and our stores are completely empty. We couldn't be happier.
Musetta and Niels completed the brief form on my website to receive a complimentary private consultation with me to discuss their situation. 
From the very beginning I could tell they were very decisive and they had also done a tremendous amount of diligence not only into me and the Retail Sales PRO process, but also what other options they had.
They told me they had spoken to some of my "competitors" and they were unimpressed, but when they read through my site and watched many of my videos they were compelled to talk to me.
As usual I listened to their story while I glanced through the information they provided on their form, then asked them many questions to really get a handle on how I could help.
I knew they had potentially a very passionate fan base because of the nature of their business (Remote Control cars and other hobby things), but felt my systems could really help them, so I told them the costs up front and quickly followed it up with the offer to schedule a follow up call so they had time to discuss and also come up with additional questions.
After one follow up call they were ready to roll. We got the contract locked into place and I got to work.
Not only was Musetta INCREDIBLY easy to work with, she followed every single step of my system to the letter and, proportionately speaking, it was one of the most successful store closing sales I've ever facilitated for a client.
When Jim first contacted me about potentially liquidating his retail store he explained that his hardware store had been in business for almost 20 years. (See Jim's video)

He sold all the typical items sold in a local hardware store, but he also had carved out a unique niche in servicing the theater market by selling stage paint, props, and more.
With schools closed for most of 2020 in his area along with dealing with the pandemic as a whole, his business took a beating like many other retailers had across the country.
He knew it was time to get out.
Having already helped many other retailers with successful store closing sales in 2020, I assured him that my marketing and promotion systems would work for him too.
We had several conversations, then he decided to get started, and my team and I got to work.
Jim trusted the system and process, and I helped him liquidate everything to the bare walls, so he could turn the space back over to his landlord and gracefully move on to the next chapter in his life.
Gary first contacted me almost a FULL YEAR before the time period he "knew" he wanted to have a Going Out Of Business Sale, which is quite rare from my 23 years of helping retailers through this process.
Not only is it rare, but it also presents the retailer with many additional options.
The first thing I told Gary was, "Well, because you have very good vision and you're contacting me this far in advance, if we end up working together I can do something very special for you". He said, "Oh yeah, what's that?".
I went on to explain the Retail Sales PRO marketing process I created for successfully and profitably liquidating the inventory and assets of hundreds of retailers, most of which is digital.
I further explained that I could have my team assemble a very inexpensive campaign in Facebook designed to do nothing more than promote his business (not the Sale). And by doing so we would be developing a following on Facebook well in advance of his sale that we could then use to promote his sale when the time came (cheaper clicks, save money on ad budget), but also build his email list!
He told me he didn't quite understand all of what I explained, but liked the idea of it. I offered this up to him for free because I know how much value it would provide him!
To make a long, fun story short…me and my team did exactly what we told him we would do, then when it came time to start the actual promotion for his sale it got started with even a stronger BANG than my sales already do because of this. So, it definitely pays to think ahead like Gary did.
He followed everything I advised him to do and that needed to be done TO THE LETTER and when his sale was over it ended up generating almost 120% return (of inventory cost).
I started Retail Sales PRO in 2000 because I wanted to be different. I wanted to stand out. I wanted to make sure retailers from all across the country (and now multiple countries) had an option OTHER than the same old tired marketing that ALL other companies operating in this space employ.
I succeeded. And this is why I proudly give all my prospective clients the names of those very "competitors" so they can call them up and ask the tough questions (I even give them the questions to ask).
Why do I do that?
Because I know what I've built with Retail Sales PRO is THE most powerful marketing systems in the world to quickly, profitably, and
effectively liquidate inventory and assets
for TOP DOLLAR, leaving my clients with full satisfaction and the ability to walk away with their heads held very high and proud.
Brice Hoopingarner, Creative Art Supply "I wanted to retire after being in business for 40 years, so I did research on the Internet and it all kept pointing back to Travis and Retail Sales PRO.
After listening to several of the other testimonials from his past clients I decided to give him a call.
After speaking with Travis what was most important to me was finding someone I was comfortable working with and also someone with a good, solid program in place.
This company had that. I felt very confident in his ability.
The biggest fear I had was being able to reach enough people and actually liquidate my specialized inventory.
And that was put to ease on opening day when there hundreds of people waiting to get into my store
Sales volume the first day was incredible, probably a month's worth of sales volume in one day, and at a minimal discount from my normally high margins.
As the sale and the days went on Travis would advise us to move the prices, so we did. And the following day we'd get a massive amount of people in again, as planned.
The entire process was very organized.
The last day was incredibly busy too!
I would recommend Retail Sales PRO because with Travis' background it took a lot of pressure off of me.
At first I thought I could do all this myself, but after seeing the entire process unfold I realized there was NO WAY I could have done this myself!

You need someone like Travis with his 20+ year background to put something like this together.
The end result is this all exceeded my expectations. If I had to go through this again there is NO DOUBT I would hire Travis and Retail Sales PRO again!"
Mark Mittelsteadt "I was in a mall that's kinda dying and for the last couple years my sales have been "ok", but it was time to maybe move on.
It was an emotional time…I've had the business for 23 years. You just look at it and you keep thinking it's going to get better, and it just isn't.
My sale started at 9 o'clock, and I opened the gate and there was not a person out there.
Travis, I want you to know 5 minutes later you could not get another person in the store!
It was so busy that we tried taking pictures, but they were all blurry. For the next 3 days we had so many people in the store – it was unbelievable!

They were buying everything at probably the same mark down as what we'd be doing in a 15% or 20% off sale that meant nothing before.
Everything you said throughout the sale actually was right!
Every day when I went home at night I could sleep again because I knew that this program was working.
I did research other companies, and said "Travis, you're more expensive than everyone else". He said, "Mark, I am, but you will see the results!".
One of the greatest things about working with Travis is as you go through the sale he will calm all your fears.
There's a lot of emotion when you close a business you've had for 23 years, and when I found myself feeling a little iffy, you said just be patient and give it a couple days, and it all came back again.
After the sale there was nothing left and we actually turned a PROFIT! My accounts payables are ZERO!
I'm completely satisfied!"
Marie McCormick, Organic Food & Herb Store "The one thing that really stands out about Retail Sales PRO is…confidence!

Felt confident that they were knowledgeable to be able to help me.
I never saw that many people in my store -EVER!
It was great..I was exhausted, and I LOVED it!
I was in retail for a long time, but I've never gone out of business before, so I didn't know what to do next and Travis did.
wasn't sure where to go, wasn't sure the next step to take…and he guided me along the way.
That's what I needed!
I needed somebody to take my hand and say, "Ok this is what we do next, and this is what we do next" and that's what I needed.
One of the biggest fears was having a big garage full of inventory and not know what to do with it.
All of the fixtures LEFT…I don't have a big house, there's only so much I could fit in there.  That was a concern.
After the sale that Travis conducted for me my store is completely empty and I couldn't be happier.
I feel thankful we came across Travis on the Internet and decided to hire him.
Everything he said would happen, happened.
If you're going through this process, as a retailer, I would recommend Travis because he helped me through everything that I needed to do…even through the things that I didn't know I needed to do.
I would absolutely recommend Travis and Retail Sales PRO."
Doug, the owner of Georgetown Farm Supply, contacted me to discuss his unique circumstances.
Although his business was doing REALLY well financially, the property where his business was located was on a very busy intersection and he owned it.
A developer offered him a price he couldn't refuse for the property, so he wanted to find the best solution to liquidate his business for the maximum profit possible.
After several lengthy conversations with him discussing what the game plan would be for his store he said, "Let's do it!", and my team and I got to work.
One of the first things I told him was that the success of the sale would be a team effort including him and his staff.
He followed EVERY DETAIL of what I told him needed to be done to the letter, and the sale was a smashing success.
Allan, the owner of a large furniture, home, & gifts store, contacted me after seeing one of my videos on YouTube.
Like many retailers, he started with the best of intentions for profit and long term sustainability, but after several years found himself with rapidly declining sales amongst big box competition.
After a private consultation with me he proceeded to do even more diligence to be confident in his decision to work with me, and we got started preparing.
I helped him launch the sale with tremendous success and the success sustained itself for 11 weeks when he finally closed his doors forever.
He followed EVERY DETAIL of what I told him needed to be done to sustain success after the launch, and he was able to walk away with his head held very high…and profitably.
Emma J, the former owner of a sporting goods store in Seattle, WA, contacted me after business continued to struggle for 2 years after the Pandemic hit.
Running a successful store was no problem for Emma. Her sales numbers were GREAT before the pandemic and profit margins were high, but all that came to an end when lockdowns and online shopping became the new norm.
She told me her story, and although the thought of closing her store was heartbreaking to her because it was a beloved store in her community, she knew it was time.
She had about 90 days before her lease was ending, so I laid out the game plan and got to work.
A native Aussie, she was unable to attend her own store closing sale because Australia was in total lockdown at the time we conducted her sale so I communicated with her via email and Zoom to accommodate the time difference.
Then I communicated with her staff directly for everything else.
I prepared for the sale for several weeks, and we had an INCREDIBLE launch to her closing sale. This carried on over the course of 5 weeks and the end result was even more INCREDIBLE…Emma recouped her entire investment and was profitable!
When Bill first scheduled a private consultation with me he was in the very early stages of planning to liquidate his retail store and retire.
We had a great initial conversation, and I shared what I thought would be the perfect game plan for his situation since he was planning so far in advance…
We implemented an inexpensive Facebook ad campaign strictly for engagement to his Facebook business page. This was not to promote his actual store closing sale, but only to gather general engagement to his Facebook page.
The allowed us, via Facebook, to build an "invisible list" of people we could target during his sale, which meant savings on Bill's marketing budget for the actual sale.
He started with about $35,000 of inventory cost and we generated 160% return of cost after tallying the final numbers. Watch Bill's video to hear the entire store in his words.
Shelle S. – Western Wear & Gift Boutique – Oklahoma City, OK
"After being in business for over 12 years, my sales started dropping fast after they started fixing roads around our store.
They never rebounded, so I started looking for solutions for stores going out of business.
I had never done a closeout store sale before, what to do with inventory and thought I should look around for help.
Though I found several broker companies, and some of them even insisted on sending representatives down to meet with me.
But I was turned off by their pushy approach and retail store liquidation costs.
I kept looking and found Retail Sales Pro, and after a long discussion with Travis on the phone I realized he would be able to help me accomplish my goals.
What made working with Retail Sales Pro most gratifying to me was that a plan was designed especially for me and my situation.
I followed his advice, and my store closing sale did VERY well!
Considering my relatively small inventory (I had only about $75,000 cost) I was able to pocket a sizable amount of cash after all my expenses."
Craft Store Owner – Grove City, Pennsylvania
"Your book Liquidation Secrets Revealed is well done and provides a substantial amount of very useful information…
— just the kind of details I need to organize and execute our store closing sale on our own.
I'm glad I was able to hire you for a phone consulting package to help guide me along while I implemented your systems.
You are definitely providing a much needed and greatly appreciated service for small retail store owners."
Rhonda K. – Fine Gift Store Owner – Fort Worth, Texas
You guys have definitely got the traffic into the store, and I can't believe how many sales we've generated in such a short time.
Our sales have averaged almost 7 times more than normal consistently during my Store Closing Sale and I couldn't be happier!
You are absolutely the go to experts in store closing sales."
George C. – Fan & Lighting Store Owner – Thousand Oaks, CA
"I cannot help but being grateful for your company's help and your ability to help keep me grounded and calm during our Sale.
Your liquidation advice was invaluable, and I felt I had a friend/counselor at my side the whole time.
You had told us up front that this would be a Sale like no other we've ever experienced and I just couldn't imagine it.
I figured it would be "just" like normal, but with more people.
Boy, was I wrong and I'm so glad you all were in charge of the Sale…we couldn't have done it without you.
You'd think after years of treating co-workers as family, trusting them to support you as we had them countless times.
And then have a knife stuck in your back + other "adventures with human kind" with regards to customers was a rough lesson.
You told me that it was not unusual, advised me on my thoughts of how to deal with it all, and what other fun I was in-store for ahead of time and how to handle it.
I came out of all this alive thanks to your help. Thank you again."
Lucas Z. – Liquor Store Owner – Santa Cruz, California
"This system works! I had almost a half million dollars worth of inventory in my store before my Sale started, and thanks to Travis, in six and a half weeks our sale generated almost $600,000 in revenue.
That's a 125% return, which was much more than I was expecting!
I don't know much about the Internet, but now I'm a bigger fan of it…this system used the Internet to promote my store closing sale in ways I didn't know you could! I call it the best way to close."
Billiard Supply Business Owner – Austin & Dallas Texas
"I wanted to get out of retailing billiard supplies and focus more on the wholesaling end of it since I had already designed my own, unique brand of tables.
So, I started seeking different options that were out there for liquidating and closing my stores.
Retail Sales PRO really helped me in ways I wasn't sure they could.
I was so pleased with the results of my Sales Event that after that store was closed I was able to spend more time overseas negotiating new deals for my wholesaling business.
What they do and how they do it works."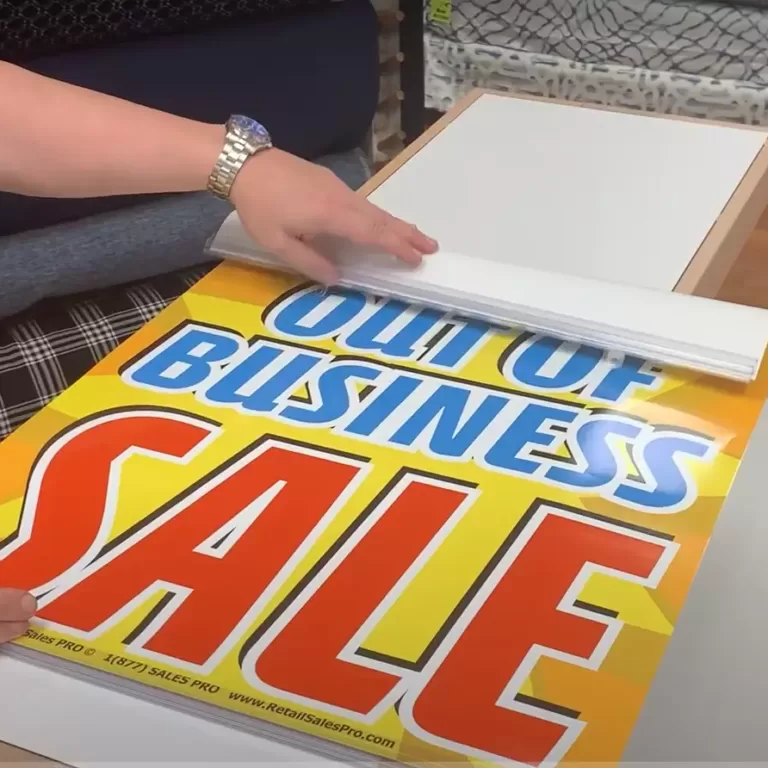 Mike W. – Party Supply Store Owner – White River Junction, Vermont
"I had researched and compared many professional liquidation companies before I finally decided to go with Travis and Retail Sales Pro.
What I found was he delivered as promised: The most value in the industry AND excellent return on our inventory's cost.
We opened our Party Store 15+ years ago as a division of our Paper Company, which has been in the family for over 80 years, and because of new competition in our market we decided it was time to get out of the party business.
We knew how to run and operate a retail store successfully, but what we didn't know how to do was how to close one effectively to get the most return.
I spoke with Travis many times over the course of almost two months
While I was trying to make my decision on which liquidation company to use, and he was the only one that showed real compassion for me about my situation.
Once I made the formal decision to go with Retail Sales Pro, the entire game plan was lined out for me, and all of my concerns were immediately addressed, which made me feel like I was in good hands.
He walked us through every single detail of every phase of the Sale, facilitated all our advertising, and provided us with professional signage and marketing systems.
When the Sale was over, we had literally nothing left in the store.
Everything was sold to the bare walls; even the store fixtures and equipment.
The sale attained a remarkable 144% return on our inventory cost PLUS the sale of our fixtures, which we also were able to get near top dollar out of.
Travis and his team is a choice I'm very glad I made, and I would highly recommend them to anyone choosing to liquidate their retail store."
George, the owner of Thousand Oaks Lighting, first made contact with me via the form on my website.
We scheduled a free, private consultation and had an in depth conversation about his situation and how I could help.
I suggested he contact several of my competitors because Retail Sales PRO was the first company he contacted, and I wanted him to truly compare the differences.
He got back with me and wanted to move forward.
The sale was a smashing success, even with his very niched product line, and he and his wife were able to walk away with their heads held high.
Niki F. – Shoe Store Owner – Surrey Hills, Australia
"Once the GFC hit retail in Australia, and my shop was not exempt, (throw in rental increases) I knew that the decision around staying or going had to be made sooner or later.
Typically I buried the fear and just thought that things would turn around soon. They didn't and I began to feel powerless.
The truth was that if I accepted this new retail reality I could make decisions based on that. And I did.
This was an empowering moment and my business was no longer at the mercy of external ever changing environments.
Once I had made the decision to close the shop the next question was how I was going to get the maximum result from a liquidation sale. I had no clue.
Worse still, there were a lot of "consultants"out there but not one that specialised in such an event. I was stunned, but I knew that surely there had to be some sort of formulae or strategy.
I searched high and low and finally came across Retail Sales Pro.
Being the sceptical Ozzie, I felt and wondered about doing business with an American who knew how to wax lyrical about his service.
Most of my friends were also sceptical.
But I believe that great outcomes can occur when we surround ourselves with people who do what they do better than what we can.
In this instance Travis had more than just a clue about to maximise a closing down sale. He had years of experience.
From beginning to end, I felt held and informed about every move that I had to make.
The support was fantastic and got me through what I would say was one of the toughest business moments of my life.
I was able to pay back my suppliers and walk out of the shop with a chandelier and my counter, sold everything else for profit! Couldn't believe it.
I'm really pleased with the result and listening to others in crisis in retail, I would have to say I feel this has definitely been the best decision all round.
Highly recommend Travis and Retail Sales PRO for his commitment to the cause, his support and expertise.
Hands down they have a proven strategy that works."
Tom and Carol had a very unique situation.
Having moved to a new town so she could help take care of her ill mother they had seen a need for the type of business they ultimately ended up starting.
The problem: they started early in 2020 right around the start of the pandemic.
So they had two things going against them right out of the gate: no one knew they were there yet because they didn't have a chance to fully and adequately promote it.
And the fear created by the pandemic (and social distancing, customer limits in the store, etc).
They had basically the same fears most retailers I speak and work with have: "Will it work?", "What if it doesn't work?", "What if we have stuff left at the end?", and others.
I told them I could help, and to just trust my liquidation systems. Not only have they worked for over 2 decades with retailers in 20+ retail categories, but recently they have also proven to work during a pandemic.
With many things going against their success, the sale ended up doing very well.
Debbie V. – Women's Clothing Business Owner – Grand Terrace, CA
"The time had come to say "Goodbye" to my business. Emotions from anxiety to zealous flooded my already over‐worked, over‐tired mind.
The decision to end my business came as a difficult one.
I had experience in purchasing and growing a business and there was information abounding on selling a business but NOTHING.
I mean NOTHING on liquidating one. Had no idea where to start.
I went online and began a search for "liquidating a business."
After talking with Travis I thought that I was FINALLY seeing a light at the end of the tunnel, however because I was such a small shop in such a small town, I didn't have the revenue for the required budget.
Travis suggested that I purchase his ebook, which outlined all that is involved with facilitating a high impact Liquidation Sale for a small business.
He said if I did EVERYTHING the book said and did it the way the book explained I would have the same results.
Again I was filled with trepidation. I was about at the end of my rope.
Didn't want to "learn" to do anything else,  was trying to get OUT of all this. But…what else could I do?
To make a long story short, buying his Liquidation Secrets Revealed and hiring them to consult with me through the process was the BEST thing I ever did.
Coming from a place of not having a clue what I was doing, we followed the directions in the eBook with the intention of doing "whatever it takes" to get rid of my entire inventory.
I didn't exactly know what to expect but I figured it couldn't be any worse than "giving it all" to the liquidators; and at least it would all be gone.
BUT WOW…WHAT AN EXPERIENCE.
Not only was the eBook concise in its direction, but it was easy to follow, very thorough, and combined with the personal consulting was absolutely amazing.
It was obvious by all the research that the methodologies in the book were proven and WOULD deliver results. DID IT EVER!
The FIRST WEEK of my 5‐week sale resulted in the sale (in dollars) of over one‐third of my total inventory!
And it didn't stop there! I had to keep buying more inventory to keep up with the flow of traffic I had coming in. I had NEVER even seen so much traffic in my store before.
Once the sale began it worked just like clockwork. The sales just kept coming and coming.
I continued to follow his advice, and at the end of the 5‐week sale I had liquidated all but 5 items for very high profit margin.
Sold all my inventory as well as all decorations, display items, furniture, supplies, fixtures…EVERYTHING FROM WALL TO WALL.
Using Retail Sales Pro MORE than met my expectations. But the best part of the whole event was the psychology of it.
What started out to be a painful, dread‐filled event ended up being an uplifting, high‐energy, unbelievably FUN, and totally EMPOWERING experience.
I simply couldn't have had these kind of results on my own."
Cam B – Pet Store Owner – Cincinnati, OH
"When I began exploring the possibility of a liquidation sale to close out our business, I spent hours reviewing several websites to determine what the anticipated results might be and who was out there that might be experienced and capable to help me.
I actually picked three possibilities and systematically proceeded to phone interview them.
After our initial discussion, it was obvious that Retail Sales Pro was more capable of coaching me through the sale than any of the others.
The construction of the special website which utilized the least expensive route to communicate the sale (email) was one deciding factor.
Your willingness to listen to my ideas, use them when appropriate and reject them when your experience said to was another factor.
After we made the decision to engage Travis and his company, the planning phase was very professional and well thought out.
Everything was very directed and professionally done. There is no way we could have accomplished this on our own.
I also have to comment on you, Travis, as the onsite consultant.
Everything you told us would happen, actually did. You predicted the sales upturns and downturns very accurately (if somewhat conservatively).
You anticipated and warned us how employees would react and how customers would react.
Your experience also helped Diane and me to work through some rather strong emotions associated with closing a business we had been a part of for so long.
Thanks for all your help. I can wholeheartedly recommend your services to others in my position."
Tom – Hardware Store Owner – Fort Dodge, Iowa
"I wasn't sure if we had what it took to conduct an effective Sale of this magnitude on our own, but after talking with Travis I realized the only reason I felt that way was because I realized I'd never done anything like this before.
I knew we only had one shot to do this right or our customers may not come back.
He provided all the answers AND the confidence we needed with our Store Closing Sale.
We sold everything in our store for PROFIT, plus the fixtures, in just over 8 weeks!"
Dollar Store Owner – Elba, Alabama
"With a dollar store in a small country town, we weren't sure how effective a Store Closing Sale would be, but 6 weeks and a 110% return later we realized that a Store Closing Sale was the best option….
thanks to Travis and Retail Sales PRO".
Joan – Furniture Gallery Owner – Dania Beach, Florida
"I run a furniture gallery and had built up a lot of extra inventory, so I contacted Retail Sales PRO about helping me develop effective, yet quick, strategies to get rid of some of it.
In my business I knew I needed some clever ways to get people into my store, and Travis did just that by utilizing the Internet, some creative advertising, and great in-store signage to help me liquidate all the excess inventory I had, for great profit PLUS many of these newfound customers have continued to come back time and time again."