What does the Retail Apocalypse mean and is there a solution?
JUST IMAGINE…YOUR STORE LOOKING LIKE THIS…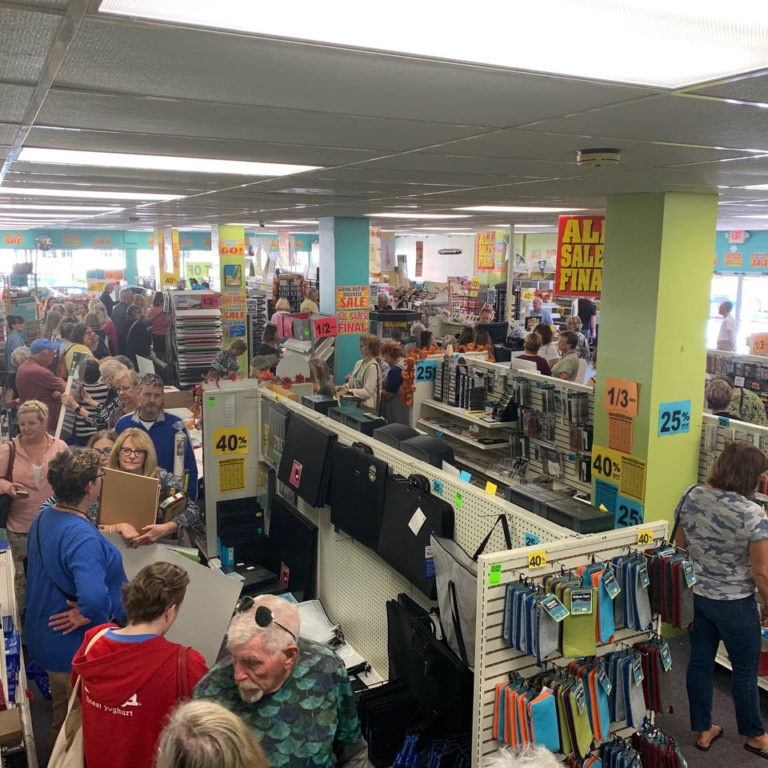 WITH LONG LINES OF CUSTOMERS AND MINIMAL DISCOUNTS…
AND LOOKING LIKE THIS AFTER YOUR BIG SALE IS OVER…
When I got started in this business it was because I watched my dad practically lose his shirt when he finally saw the writing on the wall and knew it was time to liquidate, close up shop, and move on to the next chapter in his life.
He chose a company to help him with this emotionally scary and daunting process based almost solely on price. In other words, the cheapest one he could find.
That ended up being his most costly decision…hence, why I got into this business in the first place: to help independent retailers to not have to go through what he did.
My dad was very fortunate to be mentored by Sam Walton before Wal-mart ever existed.
Then he decided to go out on his own and start his own small chain of stores, which he ran for almost 20 years…but was forced to close, ironically, because Wal-mart had then moved into all the areas where his stores were located.
When I watched the pain he endured because he chose a company to help him that was far from qualified and ended up costing him tens of thousands of dollars in lost revenue, I knew I needed to help other retailers in the same boat.
Because I had an extensive background in marketing and promotion, as well as retail.
Since then I'm proud to say that my company, Retail Sales PRO, has consistently stood out from all others…
Why?
Because I vowed the create marketing and promotion systems that were designed to not only drive tons of new and existing customers into my client's stores, but also have them going in with the EMOTIONAL desire to buy.
I learned that psychology is a HUGE part of marketing and when you're able to harness psychology to induce fear of loss into customers it creates a frenzy of buying activity…
And this basic fundamental of marketing and promotion is what has driven huge amounts of sales volume for my clients over the years…and not just sales volume, but sales volume at nominal discounting for most of the sale.
This means much more profit for my clients as well.
I'm fortunate to have a stellar team that I've built over the years that helps manage all the behind the scenes stuff, and that gives me the opportunity to do something that no one else in the industry is able to do: work DIRECTLY with my clients!
I get to help them deal with all the many aspects and details of running a closing sale like this…
In fact, I tell all my potential clients to not EVER cut corners, to always spend plenty of time in the preparation process because 95% or more of the success of a sale takes place before the sale ever begins.
It's all about the marketing systems first and foremost, but the timely implementation of it after.
If the launch of a sale flops, so does the sale generally.
You get one shot at doing this right, so why not make it count?
With my mission in place after I got started I was humbled when none other than celebrated retail expert Bill Glazer proudly endorsed my systems and my work…it was like having an exclamation point placed firmly at the end of "Retail Sales PRO!", and also a moment I won't ever forget.
With confidence I now tout my company as the "most profitable exit strategy for independent retailers".
My team and I will facilitate and run the sales event while my clients can focus on running their business, which is the way it should be.
Unlike all my competitors who send unqualified reps or failed store owners out in the field, I'm proud of the fact I work with all my clients directly so they have the comfort of knowing they don't have to endure the same pain my dad when he went through the store closing process.
If you're falling victim to what many are calling the "Retail Apocalypse" and are weighing all your options, get in touch with me and let's talk.