With the changed retail environment an exit strategy is a must for every store business
The effect of this newest challenge for the retail environment is the pandemic and it has been devastating for many businesses – especially for independent retailers.
Most of these retailers considered "non essential" and depending on the state where they were located completely shut down for months.
In the past this would have simply been unthinkable, but it is reality and part of the "new normal" retail will be experiencing.
That is why it is crucial more than ever before that independent retailers know the facts while looking at the future of their business.
The most important fact to remember is that every business has a life cycle whether some business owners want to admit that or not.
At some point in the businesses life cycle independent retail owners will either pass the business to their children (less than 1%), successfully sell their business (less than 5%) or close their doors (a whooping 94%).
Given those numbers it is clear that an exit strategy is a must for anyone running an independent retail store, especially in these times.
Sadly most do not even consider these facts.
I have never been one to sugar coat the truth.
I have too much respect for it.
Independent business owners have been coming to me for over 20 years when looking for retail liquidators asking for and following my advice when it comes to their business.
Those that follow my advice have been ecstatic with the results. Why?
Because I can look at a business and size it up in a minute to tell someone why they are where they are and what the next best moves would be considering their goals.
I can honestly tell you that I have never seen anything like the effects of this pandemic on the retail industry.
The industry was already navigating substantial change but this is like a tsunami that came out of nowhere and main street has no idea how to even think about how to reopen, let alone if they are even able to do it at all.
This brings me to the real tough question that all independent retailers need to ask themselves – should I try to restart my existing business?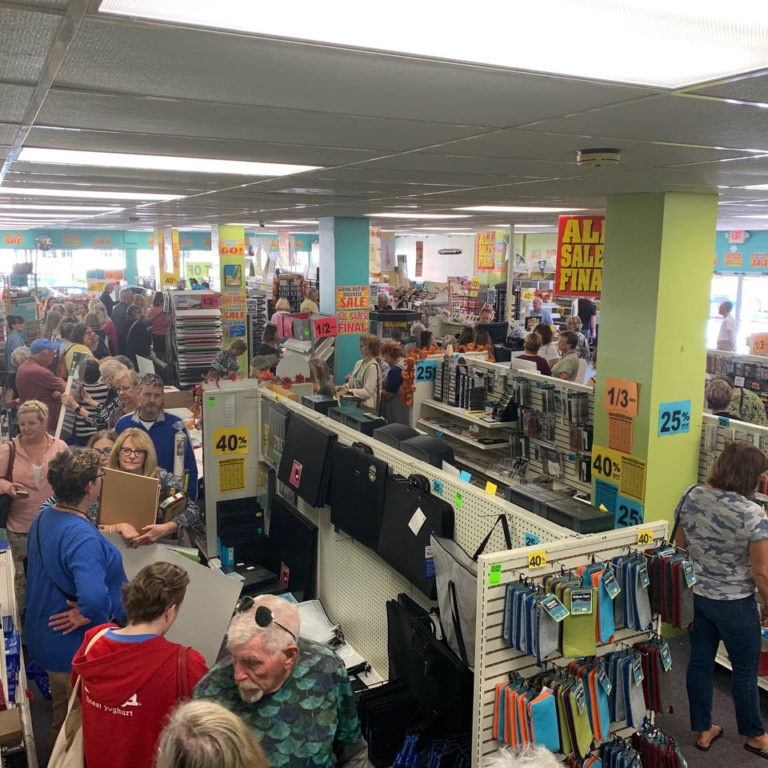 With long lines of customers and minimal discounts (See video of actual GOB sale)
I know it's a very tough question and I am sure many owners reading this would shout a resounding "YES!" in answer to the question.
Why? The most common answer I get is "that's all I know how to do".
If that is the justification for wanting to reopen your business you need to do some more thinking because this "new normal" for main street is going to take the challenges that they were already dealing with to a whole other level.
Let me dive into that.
From the workplace to restaurants, to every retail store where a purchase can be made.
All of these businesses will have to adjust to this new normal and follow along with guidelines for operations, in addition to higher standards of sanitation and social distancing.
As I stated before most independent retail businesses were considered non essential during the virus outbreak and depending on the state where they are located had to close for weeks.
During that time many employees desperate for help turned to unemployment and in most cases were being paid more if not twice as much as they were earning at their retail job.
The Payroll Protection Program was put in place for employers to retain their staff and allow them to be paid directly by the owner, keeping them off the overloaded unemployment program.
This program, although great in theory, was a monumental task to get implemented and disbursed.
The success of it will be debated for years to come but based on my observations and what I am hearing from small business owners the process was complicated, confusing and most loans did not get funded before the money ran out.
Considering these facts owners were tasked with the process of hiring and training new staff while trying to implement all new procedures.
New staff was difficult to come by as workers were wary of being exposed to the public.
Grocery store employees stated that working with the public was like working in a "war zone" with exposure to the masses.
Many felt taken advantage of having to work under these conditions while others are home with their families and collecting a check for doing nothing.
Healthy employees are crucial to your business.
Here are ways to help them stay healthy.
Actively encourage sick employees to stay home.
Develop policies that encourage sick employees to stay at home without fear of reprisals, and ensure employees are aware of these policies.
Have conversations with employees about their concerns. Some employees may be at higher risk for severe illness, such as older adults and those with chronic medical conditions.
Develop other flexible policies for scheduling and telework (if feasible) and create leave policies to allow employees to stay home to care for sick family members or care for children if schools and childcare close.
Talk with companies that provide your business with contract or temporary employees about their plans.
Discuss the importance of sick employees staying home and encourage them to develop non-punitive "emergency sick leave" policies.
If independent retailers are able to retain the workers to run the business, they will need to take on the burden of hiring enough people to implement many of the evolving guidelines like capacity in the store.
 

Store capacity will likely be limited for months to come.
When reopening began on a large scale a 25% capacity was the guideline.
Also, continuous sanitation practices will need to be followed as in the case of stores that have a dedicated person to simply clean shopping carts during hours of operation.
As a matter of fact the CDC had an entire section with guidelines laid out just for small businesses.
It states that the first goal of a business is to "prepare to protect their employees' health and safety in the workplace" and they lay out for business owners exactly what is required for you to do that:
Examine policies for leave, telework, and employee compensation.


Leave policies should be flexible and non-punitive, and allow sick employees to stay home and away from co-workers.
Leave policies should also account for employees who need to stay home with their children if there are school or childcare closures, or to care for sick family members.
When possible, use flexible worksites (e.g., telework) and flexible work hours (e.g., staggered shifts) to help establish policies and practices for social distancing (maintaining distance of approximately 6 feet or 2 meters) between employees and others, especially if social distancing is recommended by state and local health authorities.
Provide tissues, no-touch trash cans, soap and water, and hand sanitizer with at least 60% alcohol.
Plan to implement practices to minimize face-to-face contact between employees if social distancing is recommended by your state or local health department.
Actively encourage flexible work arrangements such as teleworking or staggered shifts.
Perform routine environmental cleaning. Routinely clean and disinfect all frequently touched surfaces, such as workstations, countertops, handrails, and doorknobs.
Discourage sharing of tools and equipment, if feasible.
The CDC guidelines were on top of other protocols put into place by the leaders in the retail industry like spacing configurations and traffic flow markers, employee screening for symptoms, additional employee training for disease control, providing face coverings and protective barriers at check out areas.
I know that trying to implement even a handful of these practices would have been too much for most small businesses to put in place.
Most of them ran with a skeleton staff and even with the owner actively working at the business from open until close they simply did not have the staff to keep running.
The cost alone to implement increased sanitation, allowing for increased accommodation for sickness in the employees or their family members and decreased capacity due to social distancing will be much more than most independents can bear.
All of this needs to be coupled with this last hard hitting fact.
In the weeks that passed with main street and malls shuttered, consumers have found new ways to get what they need to have from someone else online.
People that wouldn't take the time and effort before to figure out Amazon Prime or the online delivery and pick up systems of Walmart, Target and the like, have had the time and the motivation to change their habits.
The majority of all customers have had no other choice but to order and have delivered to their door any and everything they need.
It takes a mere 3 weeks to change a regular habit and the public has had more than enough of a push with the risk of exposure to the public to permanently change how they get the products they need and want.
It will be a huge undertaking to get even a simple brick and mortar retail store open with all guidelines in place.
There has been much talk about fines and other consequences for those businesses that do not implement and follow the guidelines, especially when it comes to employee and consumer safety.
Trust will need to be reestablished with past customers that you have their safety in mind.
When a customer enters a store for the first time after this experience they will be eagle eyed in looking for different measures in place for their safety.
My team has spent weeks keeping up to date on all measures so we can provide guidance to our clients.
I share all of these facts to say this.
If you are an independent retail owner please carefully consider everything I have presented to you here and at the very least take the time to consider the lifecycle of your business which includes an exit strategy.
If you have no idea where to begin, I am here to help as one of the top retail liquidators in the country.
I do offer a free consultation and for anyone looking for ideas on their particular situation and straight forward talk on what I see as options for you in this aftermath of the pandemic.
This is something that no one in the world has witnessed before and there will be massive business casualties from it. Be informed and get your questions answered.