How to effectively use facebook marketing and social media for your business closing liquidation sale?
The idea of a business closing isn't the same as what it used to be, when times were simpler.
This is especially true from the standpoint of facilitation.
In past years, when a store was going out of business, signs were put up, a few newspaper ads were run, and some direct mail pieces were sent out.
Then the business owner would just sit back and wait.
That type of activity was enough to ensure that people came in and bought items so that the liquidation sale could proceed and the store could be closed.
Then, the business owner could go on to whatever he or she planned to do next.
No one thought of doing anything differently when facilitating the closing of a store and the sale that came with it, and everyone seemed content with the status quo.
Click on the play icon to see the video of a Client's Store Closing Experience
Eventually, however, new ideas were presented and the facilitation of a store closing began to change.
Some stores started coming up with new ideas like having games for people to play and giving out prizes to drive customers to the store.
Some of these prizes were relatively expensive, and frequent shoppers had a higher chance of winning them, which helped to keep the traffic flow high.
It is not known where these ideas got started, but they caught on quickly with a lot of people and rapidly gained popularity.
This forced individuals that were holding liquidation sales to change the way they handled this all-important aspect of store closing.
While many of the old ways still work to some degree, there is now a new era in store closing sales…the internet, digital marketing, and social media.
Store closing sales, the internet, and social media are a perfect match, but not all retail business owners realize this.
For the business owners that are willing to harness its power, however technology has created an enormous advantage when it comes to store closing, liquidation sales, and going out of business sale.
imagine your store looking like this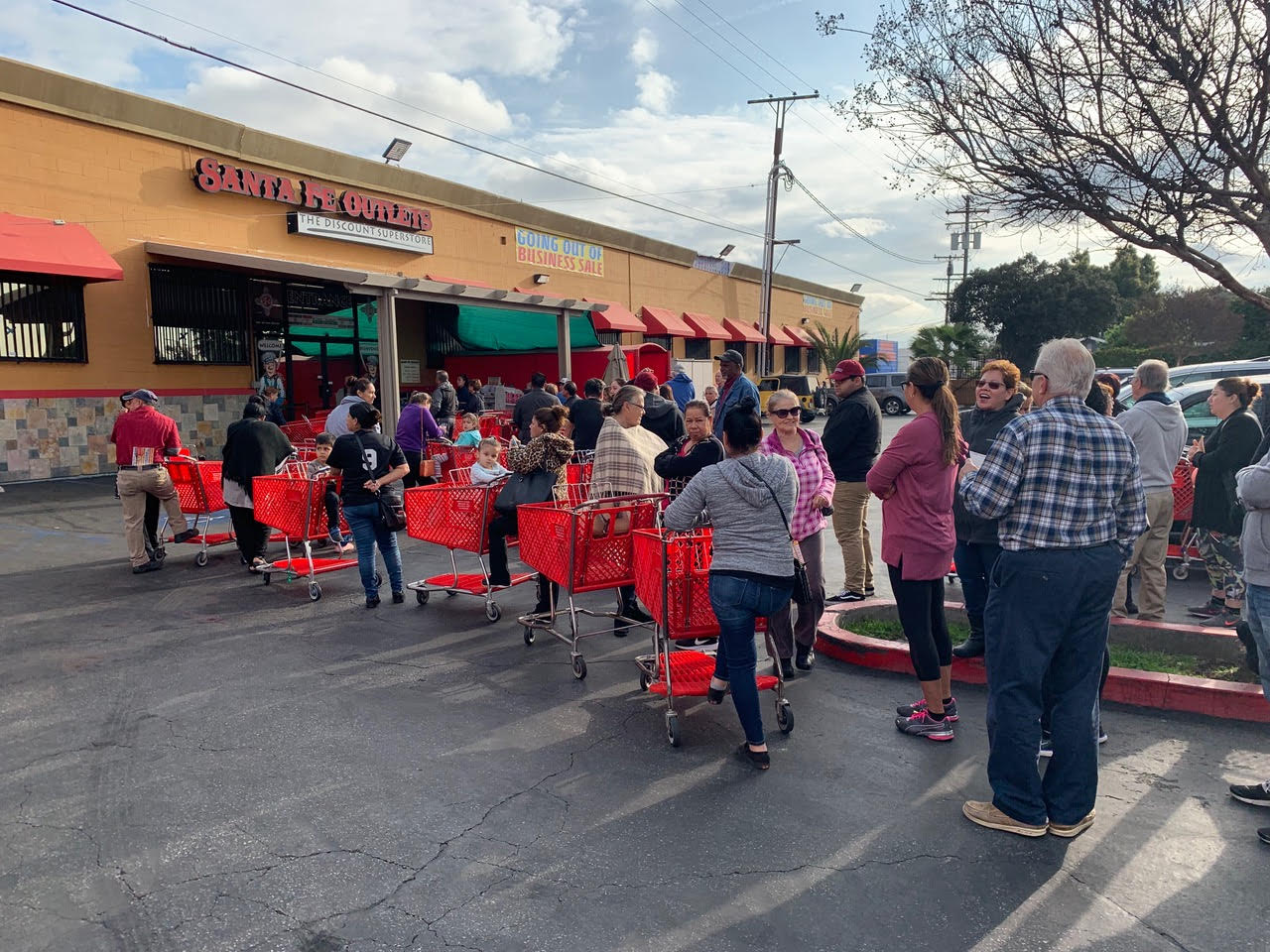 looking like this after your Store Closing is over
The reality is this is EXACTLY what happens 95% of the time or more.
And it's also the reason why I tell ALL my prospective clients to call ALL of my competitors before they make a decision. No one else does this.
And most people stop for a few seconds then ask me, "Why would you give me the name and numbers of your competitors?!".
I say, "Because if you call them, really dig into to HOW they intend to market and promote your closing sale, and who you're going to be working with…you'll most likely be calling me back anyway".
Now, that usually gets a laugh, but that's not my point. I genuinely want my prospective clients to call every single one of them.
Sometimes I even jokingly tell them they should ask each of these companies if THEY will provide them with some of their competitors names and numbers.
THEY NEVER HAVE, AND NEVER WILL.
Anyway, the objective of the store closing sale is for the store owner to make as much profit as quickly as possible and then close down the store.
A lot of business owners think that they can do it on their own.
They believe they have run successful sales before and this will be no different.
The truth is that right professional retail consulting service that knows the right way to make use of the internet and social media during a store closing sale is the most cost effective way to succeed.
The internet and social media MUST be utilized correctly if the retailer, consultant, or merchant is going to generate a large, immediate, and generally inexpensive buzz surrounding a business sale.
By accessing the power of the internet and social media, a store closing sale can be much more profitable.

Than it would be if the business owner had chosen to go with only the previously-used methods to tell people about the sale.
For the business owner that wants to do more in the form of higher profits during the store closing sale.
However, the internet, digital marketing, and social media is the way to go…as long as it is also integrated with the right kind of direct mail.
Unfortunately, simply jumping onto the Internet and social media and trying to tell the world about the store closing sale won't be nearly as effective if done haphazardly.
For that you need to contract with a professional retail consulting service.
The internet and social media can be a confusing and costly place to try to advertise and promote this type of sale on your own.
When a store owner decides to hold a store closing sale, the easiest way to conduct it is through the use of a professional consulting service that is geared toward retail.
However, you don't want to just hire any old consulting firm.
There are specific things to look for when choosing a professional liquidation expert that will truly be right for your needs and that will give you great value for your money.
While there are many competing consulting companies available, not all of them know how to utilize the internet and social media to its full potential.
When deciding what liquidation consulting company to use, it's important to find one that makes complete use of the internet and digital marketing, and does it properly.
Make sure to ask questions about this particular part of their service.
For example, the consulting company should offer professionally written press releases that are properly digitally distributed (like Retail Sales PRO does).
Other services that are important for the business owner include geo-targeted pay per click campaigns, internet audio and radio, internet video commercials, video testimonials, and a landing page (like a one page website) designed for the business.
The landing page is especially significant.
Many retailers, especially if they are smaller retailers, do not have a website or social media presence.
Even those that do don't always have them set up in such a way that they can properly showcase a store closing sale.
A professional consulting service that can create a powerful landing page that captures email addresses to remarket to over and over is vital for a store to utilize during its closing sale.
I know it sounds self serving [actually, it is] but my company Retail Sales PRO does exactly this.
And the reason I run my company with digital marketing, social media and direct mail as the cornerstone promotional mix for my clients is this: IT WORKS, when done correctly.
No games, no prizes, no remarking merchandise, no unqualified consultants sent to your store.
Just hard core marketing, merchandising, and promotion to help you get the job done right and profitably.
Doing some research and hiring a time tested consulting firm with testimonials from satisfied clients can make an important difference in the success of a store closing sale.
Not only will a good professional consulting service maximize the profits of a retail store closing sale, but this kind of service can also help speed up the process.
Further saving money in building rent, utilities, insurance, and other expenses that the store owner must pay as long as the business remains open.
These kinds of expenses can cause serious trouble for a store owner if they last for a long period of time while he or she is running a store closing sale.
Again, sounds very self serving, right?
Of course it does.
And that also knows how to direct traffic to that site and to the store, is the kind of consulting service that a retailer should look for… Like Retail Sales PRO.
This can be an invaluable resource to drive traffic into the store from both new and existing customers.
The emails captured from the landing page are stored in a database to send email messages and sales alerts to the customers who opted in during the sale.
This is what I like to call "Free Advertising"!
They will inform customers of price changes and the progression of the closing sale creating excitement.
Armed with this knowledge of what is possible to promote the sale a store owner can pick a consultant that can truly deliver for their sale.
You, the store owners, can rest assured that you can run your business while the consultant runs their store closing sale.
Use a high-quality time tested company that offers internet, digital marketing, and social media services.
You'll have the confidence of knowing your store closing sale is in the best of hands and will be handled in the most efficient and effective way possible.
Listen, I got into this business because my dad went through the process of looking for and selecting a company to help him with the store closing process.
Because he went the cheapest route it ended up being his most costly mistake. Why? Because their MARKETING SYSTEMS were outdated and ineffective, first of all.
Secondly, because the "knowledgeable consultant" they sent out to run the sale was unqualified and inept.
He knew NOTHING about marketing and promotion.
My point:
when doing research focus your efforts and energies on ONE KEY THING:
the marketing and promotional systems they employ for you and your store.
Are the systems current? Or the same systems used back in 1974?
Are you working directly with a qualified source to implement the marketing system (assuming it's even quality in the first place)?
Or are they sending you some former store owner who didn't know how to market in the first place.
Or worse yet someone who just needed a job and didn't mind being on the road for several weeks?