How a Top Ranked Business Consultant can prepare you for your final closing out sale?
Whether to sell or liquidate – when a merchant is preparing for a high returns store closing sale, he or she must ensure that specific plans are already in place before the actual start of the sale.
Being a leading liquidation company, we have assessed this.

Ninety five percent of the work towards the success of the sale takes place weeks before it ever starts.
Depending upon what type of inventory the merchant has, how much inventory they have, the location of the business and the relationships with the vendors, it can take up to three or four weeks to make adequate preparations.
The reason behind this is that there are many areas that have to be addressed.
Not all business owners realize how many issues they will be facing and how many specific areas of their business they must look at when it comes to preparing for a high-impact going out of business sale.
Advertising for the sale must be created and facilitated, and factors such as merchandising, cleaning, stocking, signage, staffing, mailers, and other procedures must be addressed.
These should all be in handled well before the beginning of the actual sale so that everything is in place the day that the sale begins.
Starting the closing sale without a clear plan in place can actually can be completely disastrous for a business owner.
Unfortunately, many merchants might not think about all of the small issues that surround the preparation for the sale.
Therefore they will unintentionally neglect to address some of the smaller but still significant areas of business.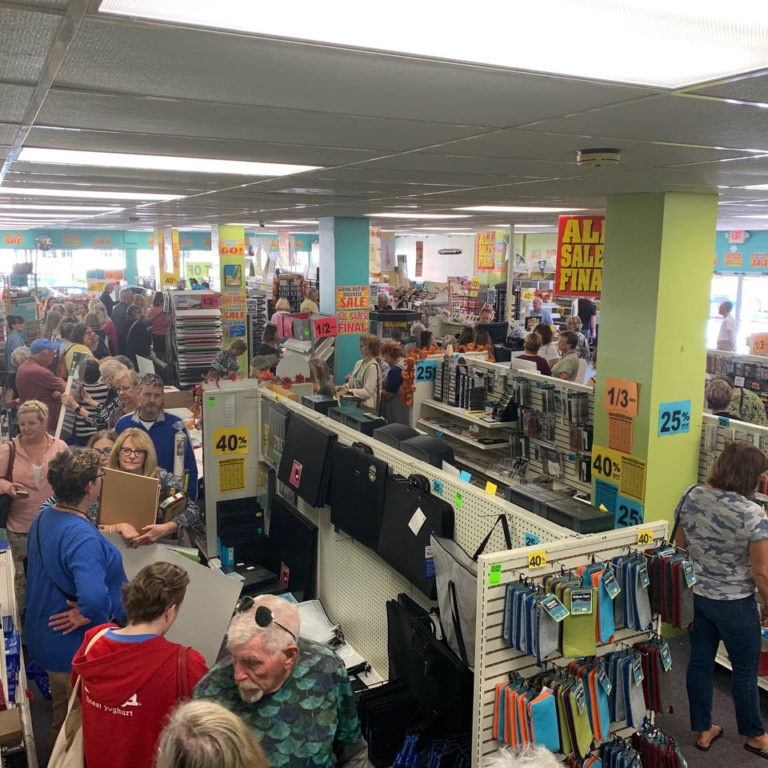 For example, having a clean store is a must during a going out of business sale.
As merchandise levels dwindle in the final sale days and more and more shelf space appears, dust and dirt can turn customers off very quickly.
The same is true for dirty flooring and windows with marks and fingerprints.

 

These kinds of things are an indication that a merchant no longer cares about the merchandise or the customers because the store is closing.
It is a much better choice to make sure the store is very clean before the sale begins and therefore is easy to keep clean while the sale is occurring.

 

A clean store and merchandise that is free from dirt and dust is central to ensuring the viability of a going out of business sale.
This cleanliness, however, must be coupled with other issues such as staffing and stocking.
The merchandise that is available must remain as well-stocked as possible.
There must also be adequate employees available if customers need questions answered, helping loading items, or assistance with anything else.
This kind of sale is not business as usual but certain seamless systems like these must be in place to maintain sales.
Having the store ready for the going out of business sale also means letting customers and potential customers know about the sale.
This can be accomplished in many different ways, including but not limited to, mailers, signage, and advertising.
Direct mailers that are sent out to all customers for which a merchant has information can help bring them into the store during the sale.
Compiling all current information for these customers is a critical set in the marketing process.
In addition, advertising should also be done through local media outlets.
Television if it is not too expensive for the business works well, but so does radio, local newspaper ads, and flyers.
A business that does not have a large advertising budget need not worry, as there are always options.
If a professional business liquidator is hired to conduct the sale, he or she can also help to determine which advertising ideas will work best based on the location and inventory of the business.
It's often difficult to assess how much do liquidators pay for inventory, therefore the hiring helps.
A clear plan of preparation for a retail business closing sale is a must for success.
From signage to marketing, to training of staff to cleanliness of the store – the details must all be worked out.
Preparing for a sale of this kind is unlike any other sale the merchant has done before and will take time and investment to set themselves up for success.